---
In 1996, Nowlin Craver brought his twisted mind to the world of teaching videos. Feeling there was no comprehensive teaching of the fundamentals of dove production techniques on the market, he very seriously set out to remedy that situation in a most silly fashion.
But since they were distributed on a limited--almost underground-- basis; few in the mainstream even knew these tapes existed. Now, at last, Nowlin has been persuaded to make them available to the general magic community.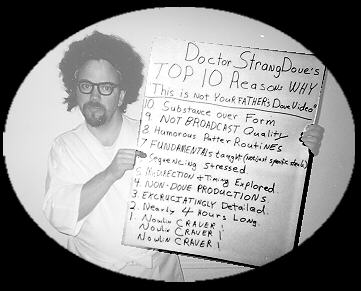 Though designed to show the simplicity, beauty, and usefulness of dove production techniques to those with no interest in producing a plethora of doves to music(or even one, for that matter); the techniques and fundamentals of misdrection and sequencing are invaluable to those performing a classic dove act, providing much information and details neglected in other dove videos. His ultimate goal is not to teach you his routines and steals, but to give you the ground work to create your own.