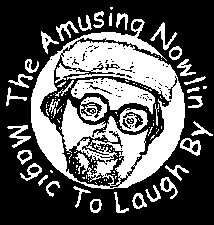 "Hello, my name is "The Amusing Nowlin," but you can all call me by my first name… 'The.' And tonight I'd like to show you what it would look like if "other people" did magic… say, Michael Jackson or Madonna. Now these are not impressions, but just what the MAGIC would look like."
With these words, the audience begins a journey through the world of what The calls 'punch line magic;' where the tricks create the visual gags. If you don't fully understand what we're talking about, that's okay... Words, or even pictures, cannot adequately describe this humor; it has to be experienced. So join The as he lampoons modern life by gently poking fun at the foibles of everyone from celebrities like Ray Charles and Mike Tyson, to a generic policeman and an info-mercial salesman.